'At risk' Crawley nursing home residents moved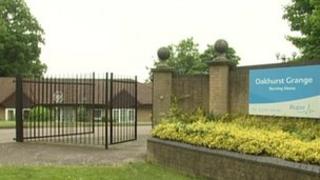 Residents of a Crawley nursing home are being moved out following concerns about standards of care.
West Sussex County Council said standards of care had been found "wanting" at the Oakhust Grange Nursing Home in Goffs Park Road.
It has terminated its contract with the BUPA-run home and has started moving the 52 residents to alternative homes.
BUPA said residents' welfare was always a "number one priority" and the company would help those who wished to move.
In a statement, the council said: "Standards of care...have been found wanting by the Care Quality Commission over a period of time."
The council said it, and its NHS partners, had been working with the home's management team to try to improve standards but it continued to receive complaints about the well-being of the home's 52 residents.
'Stress to residents'
Amanda Rogers, from West Sussex County Council, said: "We have worked in partnership with the home's management team for many weeks to help the service to improve so we are disappointed that standards are still so poor that residents' health, safety and welfare are at risk.
"We are aware that moving frail and elderly residents to alternative accommodation causes them stress.
"We know that some residents and their families believe that the care they have received has been adequate," she said.
"We only do this when necessary and in this case, it is necessary."
Richard Jackson, BUPA operations director, said: "We have been making progress at the home and this has been recognised by residents and their relatives.
"Residents' welfare is always our number one priority and we will help those who wish to move, while doing everything possible to continue to care for those who prefer to stay."