Brighton rubbish strike: Council and union in talks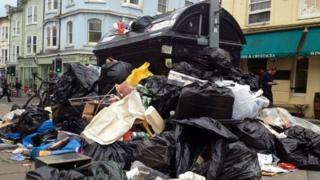 Union leaders and Brighton and Hove City Council have been meeting to try to resolve a strike by refuse and recycling workers in the city.
GMB union members began a week-long strike on Friday - the union says staff face pay cuts of up to £4,000 a year.
Penny Thompson, the council's chief executive, said discussions would continue on Tuesday and she apologised as rubbish continues to build up.
"I'm truly sorry we are in this situation," she said.
"I would like to reassure residents we are doing all we can to swiftly find an agreed resolution," she added.
On Saturday a march was held through the centre of Brighton to highlight the case of those on strike.
Refuse collector Martin Jeffries apologised to the general public "who are in the firing line between us and the council".
"It's not right for low-paid council workers to have their pay cut. This gets the message out," said Mr Jeffries.