Jeremy Forrest trial: Mother feared daughter was dead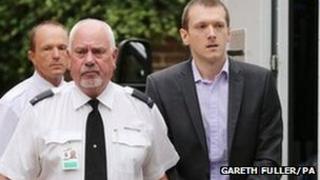 The mother of a schoolgirl allegedly abducted by a teacher told a court she feared her daughter was dead when the pair disappeared for a week.
The woman, who cannot be named, said she had no idea where her daughter - a pupil at Bishop Bell C of E School, Eastbourne - and Jeremy Forrest were.
She told Lewes Crown Court: "I thought she was dead."
Mr Forrest, 30, a maths teacher, from south-east London, denies a charge of child abduction.
The girl's mother said she had first been warned of rumours about her daughter and Mr Forrest by school officials in February 2012, after a school trip to the USA.
Mother 'apologised'
She said: "[Her daughter] broke down, completely cried. She said that it was just nasty rumours as he was the teacher that calmed her down on the plane."
The mother said Mr Forrest also broke down in tears when he called her to deny the rumours - she said she ended up apologising for her daughter's behaviour.
"He alluded that [her daughter] was being a bit of a pain. He said [she] kept hanging around him.
"He said he couldn't allow this to ruin his career, so I had a conversation with him."
The mother added: "I felt I was coaching him, consoling him because he was getting quite upset on the phone. He kept going on and on about his career."
'I was mortified'
She added: "I apologised for my daughter's behaviour. I said, 'leave it with me. I will sort it. I would take full responsibility and sort it'."
The mother told the court: "I was mortified that my daughter could put someone in that position.
"I'm a professional person myself. I was embarrassed she had put someone in this position."
Her daughter, however, told her it was not true, she said.
Earlier, a recorded police interview with a friend of the schoolgirl was played to the court.
'Sexual contact'
The friend said the girl had told her on the day the couple travelled to France that she had had sex with Mr Forrest and was worried that he might go to prison.
"She was speaking about all the things he could go to prison for - she said sexual contact and she gave like a nod," she said.
The witness said she and another friend were with the girl when Mr Forrest picked her up to take her to France in September last year.
She said when he returned to collect a bag the girl had forgotten, he appeared to have been crying.
The case continues.