Jeremy Forrest trial: Wife 'warned' about friendship with girl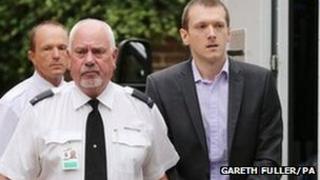 The wife of the teacher accused of abducting a schoolgirl told his trial how their marriage had fallen apart in the months before they disappeared.
Emily Forrest said she had asked her husband to stop sending tweets to a girl because it was not "appropriate".
She told Lewes Crown Court: "I didn't think there was anything in it." But she thought he could get into trouble.
Teacher Jeremy Forrest, 30, denies abducting the girl, a pupil at Bishop Bell C of E School in Eastbourne.
Mrs Forrest, 32, said the couple's relationship had deteriorated since the end of 2011.
Husband's reassurance
"He was staying out at night a lot and not telling me where he was going," she said.
At one point during her evidence Mrs Forrest began crying and judge Michael Lawson QC allowed her time to take a break.
She said her husband had reassured her there was no problem with his Twitter conversations because they were on a public forum.
The couple met in 2007 and married in April 2011.
Words of love
But Mrs Forrest said their marriage deteriorated later that year as her husband began staying out at night and drinking "a lot of alcohol".
She said the couple had gone out for a meal on 19 September last year, the day before Mr Forrest went with the girl to France.
"I went to bed and Jeremy kind of tucked me in. He just told me he loved me," she said.
Earlier, the girl's mother told the court she had feared she was dead during the pair's week-long disappearance.
And she said she had ended up apologising to Mr Forrest when he told her the girl was "being a bit of a pain", hanging around him.
The case continues.