Eddie Kidd's wife pleads guilty to beating ex-stuntman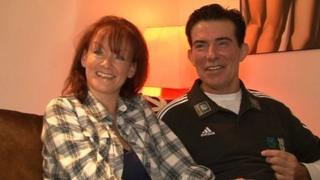 The estranged wife of former motorcycle stuntman Eddie Kidd has pleaded guilty to assaulting him.
Samantha Kidd, 44, of High Street, Seaford, had pleaded not guilty in January to six counts of assault between July and October 2012.
A two-day trial had been due to start on Tuesday at Brighton Magistrates' Court.
At a pre-trial hearing Mrs Kidd admitted four counts of assault. She was released on bail until 1 August.
In January the court was told the assaults took place in Cumbria, Peacehaven in East Sussex, and Southampton.
She will be sentenced for the four charges of assault by beating on 1 August.
Great Wall jump
Mr Kidd suffered serious brain injuries in a crash at a motorcycle rally in 1996.
He first stunned spectators in December 1979 when he jumped 80ft (24m) across a derelict railway bridge in Essex on a 400cc Yamaha.
In 1993 he jumped the Great Wall of China but three years later he suffered spinal and neurological injuries in the crash in Warwickshire.
After walking the 2011 London Marathon in 50 days and raising more than £100,000 he was selected to carry the Olympic torch through Lewes.
He was made an OBE last year for services to charitable giving.