Graffiti scrawled on historic Rottingdean Windmill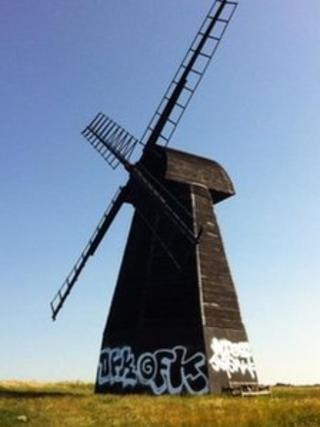 Graffiti has been daubed on a Grade II-listed windmill in Sussex.
Rottingdean Windmill, on the outskirts of Brighton, is thought to have been defaced on Sunday night.
The Smock Mill, which is believed to have been erected on Beacon Hill in 1802, ground corn for villagers and supplied local bakeries with flour.
Sussex Police said officers had become aware of the damage and would be investigating.
Local resident April Grant said she was "absolutely shocked".
"It's horrible that people would actually want to deface something as beautiful as that," she said.
'Pure vandalism'
Clive Bonny, who lives near the windmill and also had his wall defaced, said he chased the culprits, two men in their late teens or early 20s.
"I recognised it was graffiti, I then looked outside to see if I could see anyone and two heads popped up from behind the wall," he said.
"I could see they were spraying my wall so I rushed out."
He said he chased the vandals but they got away and drove off in a red Mini.
Local historian David Broad said it was "pure vandalism".
"It matters because it defaces one of the major sites of Rottindean," he said.
"You can see the windmill from miles and miles around."
The windmill, which is claimed to have inspired the logo for the book publisher Heinemann, has been opened to the public on some days since the Rottingdean Preservation Society received a £41,800 Heritage Lottery Fund grant.
It narrowly avoided demolition at the end of the 19th Century.
The parish council hopes to have the graffiti removed in the next couple of days.