William Avery-Wright, 13, 'not supervised' at time of fatal crash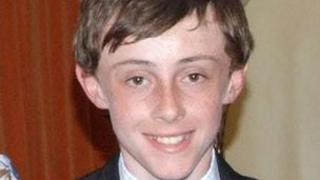 A boy who died after being hit by a car outside his school should have been supervised by an adult, an inquest has heard.
William Avery-Wright, 13, was fatally injured while crossing the road outside Worth School on 30 November when running late for a rugby match.
He was pronounced dead at East Surrey Hospital in Redhill.
A teacher at the public school, near Crawley, said pupils of William's age should have been supervised.
However, Alan Mitchell, who had overall responsibility for the games department, told the inquest at Crawley Town Hall that school policies did not state what should happen if a student was late.
He added: "I would've expected them [pupils] to go to games staff or a member of the house."
The driver of the Land Rover, Graham Voller, said he was doing 40mph in a 60mph zone and was travelling with his granddaughter at the time.
'Emergency stop'
He said: "I got to a short distance of the crossing and through the side window I just saw someone on the side of the road. I only saw one [person].
"And then the young lad just arrived in front of the Land Rover. Just as the boy hit the Land Rover I did an emergency stop. I had little time to react.
"When I stopped, I got out of the Land Rover and looked to see the boy, and got straight on to the mobile phone."
Mr Voller, who said he travelled on the same road 15 times a day, will not face criminal charges.
The inquest heard William, of Crowborough, East Sussex, had shouted "oh my God" in front of a friend just before he was struck.
The friend said in a police statement that the pair were late for a rugby match at the school, which required them crossing the road.
He said: "I was looking at my shoe and then after two seconds, I looked up at Will. He was on the pavement.
"I saw him running and stop, and Will said, 'oh my God', and then the whole thing happened."
He added: "I didn't see the car before it all happened."
The inquest continues.