Splash Point 'tombstoning' police warning issued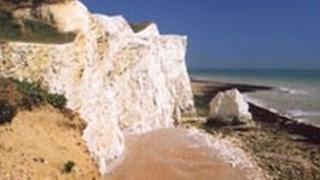 People have been warned about the dangers of "tombstoning" after several were spotted jumping off a large groyne into the sea in East Sussex.
Children aged between 14 and 18 were seen repeatedly jumping into the sea at Splash Point near Seaford on Wednesday.
Police in the town said the area was clearly signposted to prevent people from going beyond the barriers and "tombstoning" was prohibited.
"We want to reinforce how dangerous this activity is," said PC Stuart Hyde.
"Though it may not appear very high, there are a great deal of submerged hazards around the groyne and there is a potential for very serious injury and even drowning.
"I would ask all parents to emphasise this to their children the next time they say they are going to play at the beach," he said.
"Tombstoning" involves jumping or diving from a height into water, such as the sea or a lake.