Archaeologists dig to find 'lost wing' of Petworth House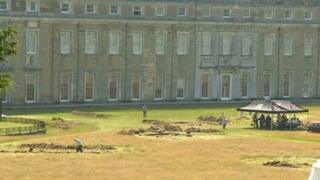 A team of archaeologists is working on a project to find the "lost" north wing of a 17th Century house in West Sussex.
Trenches have been dug behind Petworth House to locate the remains that were knocked down 300 years ago.
The archaeologists are using a painting and a geophysical survey as the basis for their search of the site.
They know the wing was demolished in 1692 because documents have shown a man called George Gardener was paid to knock it down.
It is thought it could have been built as early as the 14th Century.
'Unearth the history'
Project leader Tom Dommett said it was the first serious archaeological investigation to ever take place in Petworth Park
"We'd love to find the walls, figure out the dimensions, figure out how the rooms were arranged," he said.
"We'd like to tie that into some plans that we know were drawn up by the 9th earl during his time in the Tower of London."
He added that they were also hoping to find "high status" items, which show what type of people lived in the stately home.
So far the remains of walls have been found and medieval floor tiles have been unearthed and cleaned.
Banqueting house
The dig is open to the public over two weekends.
"We're really keen to open it up to our visitors who can watch us quite literally unearth the history of the park," Mr Dommett said.
"We want people of all ages to come and see the trenches, handle some of the artefacts and piece together the story of the park on our archaeological trail."
An excavation in a different area of the park has already revealed evidence of the location of a banqueting house, walls, pottery and other small finds.
Mr Dommett believes it could be the site of the banqueting house built by Henry VIII in the 16th Century.