No noxious substance found in Bognor death flat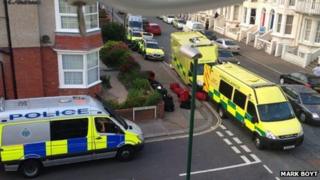 No evidence of a noxious substance has been found in a flat in West Sussex where a man and woman were found dead, police have said.
The bodies of the 51-year-old man and a 30-year-old woman were discovered when officers were called to the property in Park Road, Bognor Regis, on Friday.
Officers said they were treating the deaths as unexplained and not suspicious.
Police are working with the coroner's office to establish the cause of death.
Det Insp Rob Walker said: "Due to a concern that there could be a presence of a chemical related to one or both of the bodies and to ensure a safe working environment, a hazardous response team from the ambulance service attended the scene on Friday night as part of the investigation.
"This is normal procedure to ensure the safety of the public and emergency staff working inside the premises.
"The property was re-checked and there was no evidence of a noxious substance or pollution within the environment of the flat."
He said nobody had been evacuated from the surrounding flats.