Darren Daley jailed over Brighton train racist rant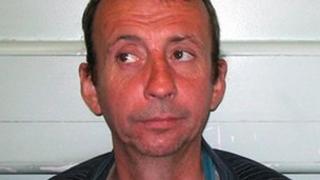 A man whose tirade of racial abuse towards a train passenger was filmed and posted on YouTube has been jailed.
Darren Daley admitted the racially-aggravated public order offence of using insulting words or behaviour.
The 43-year-old, of no fixed address, was jailed for 26 weeks on Friday at Brighton Magistrates' Court.
British Transport Police had issued an image from the video, filmed on a train in Brighton, in a bid to find him. They arrested him in London on 10 July.
Daley, who had been drinking, was sleeping on the train on 26 May and was accidentally woken up by the victim, who was trying to get his bag, police said.
He then launched a racist rant towards the man.
'Abhorrent abuse'
The video, part of which was uploaded to YouTube, showed him verbally abusing the passenger and making threats.
At the time, Transport Minister and Lewes MP Norman Baker described the man's rant as "intimidating" and "grotesque".
After Daley was jailed, Insp Gary Ancell said: "We treat all allegations of racism and alcohol-fuelled behaviour very seriously.
"Passengers have the right to travel on trains and go about their business without experiencing this type of unwarranted and abhorrent abuse and we will always investigate any incidents that are brought to our attention."
He urged anyone who had experienced or witnessed similar behaviour to report it as soon as possible to British Transport Police.