Brighton council alert after infected elm trees found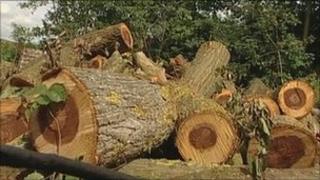 Four elms have been found to have Dutch elm disease in Brighton - the home of the National Elm Collection.
Brighton and Hove said it had the only significant population of elms in Britain, and the centre of the city had been disease-free for two years.
The discovery has prompted an urgent alert to residents who have been asked to check their trees and any timber in their gardens for any signs of disease.
The council said the infected trees in Old Steine Gardens would be cut down.
Elm disease is controlled in the city by measures including felling infected trees, pruning out of infection, breaking roots between trees to isolated infected elms, trunk girdling to stop fungus reaching the roots, and disposing of all elm material at a specialist burning site.
The city currently has more than 17,000 elm trees that were planted by the Victorians and Edwardians because of the trees' tolerance to chalk soil and salty winds.
Dutch elm disease killed millions of trees throughout the UK during the 1970s and 1980s.
Symptoms include clusters of wilting or yellowing leaves which turn brown and fall. Affected shoots can die back from the tip and the twigs sometimes turn down to form "shepherd's crooks".
An affected tree can have a mixture of healthy foliage, yellow or brown foliage and defoliated shoots, with infection in different branch systems.