Orchid View inquest: 'Trust lost' in Sussex care home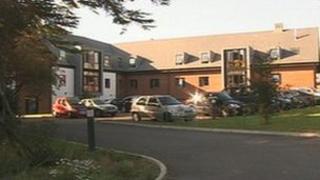 An inquest into 19 unexplained deaths at a Sussex care home has heard claims that a woman was left with a broken bone, medication was not given and another woman was locked in her room.
Relatives of those who died after being placed at Orchid View in Copthorne described the care provided.
Patricia Newman believes staff deliberately withheld information about how her mother fractured her ankle.
She said she completely lost trust in the home before her mother died.
The home, which has since closed and reopened under a new name and new management, was run by Southern Cross.
'Unexplained bruises'
Mrs Newman told the inquest her mother's fracture was discovered days after it happened.
She said her family chose the home because it had a floor specifically for dementia patients, but said staff seemed unable to cope with residents' needs.
Her mother, Margaret Tucker, suffered bruises for which she never received any explanation, the elderly woman was left partially-dressed more than once, and on one occasion she was left hanging out of bed for about two hours, she said.
Mrs Newman said she twice found her mother's medication in her handbag or on the chest of drawers next to the bed.
"I told a nurse at the home called Sam what I had found. He blamed the bank staff, he said it was them who did not watch over her to make sure she took the tablets," she said.
"But another nurse called Sharon said there had not been any bank staff on at that time."
'Soaking wet'
She told the inquest she had no confidence in the care given, and staff were "stretched to the limit".
Mrs Tucker, 77, died at the home in 2011.
Brenda Mulvaney said she found her 85-year-old father John Holmes, who had dementia, soaking wet in bed even though she had provided incontinence pads for him.
She also said staff would make him wear pads during the day when he did not need them and she thought this had been done for convenience.
She said she felt they were running staff levels "on a budget" and "getting away with the minimum they could".
Ms Mulvaney also claimed she had seen another resident being locked into her room.
"In hindsight I regret putting dad into Orchid View. The advice I would offer to anyone else is 'It is the care that matters, not the home'," she said.
She added: "The other homes [her father had been in] had not been such flashy buildings but the staff loved their jobs."
'Inappropriate handling'
Mr Holmes's son, Jeffrey Holmes, said his father lost a stone in weight in the seven weeks he spent at Orchid View.
Administration and completion of records was non-existent, he added.
He said he and his sister were so concerned that they contacted social services.
Their father was taken to hospital in August 2011 in a life-threatening condition suffering from a strangulated hernia, peritonitis and severe dehydration. He died in September.
Mr Holmes said: "He was severely dehydrated to the point where a doctor said he would be prepared to produce a report for the authorities."
Lesley Lincoln said a social worker at East Surrey Hospital in Redhill recommended Orchid View for her mother Enid Trodden, 86, who had dementia and Parkinson's disease.
But she raised several concerns about the care including bruising probably caused by inappropriate handling, the inquest heard.
She said she felt manager Meera Reed was "too young, inexperienced and out of her depth".
Mrs Trodden's medication was given at the wrong time and sometimes at wrong levels, she added.
She also found her mother cold and wet in bed with her curtains drawn, trying to get up, with her breakfast and lunch on the bedside table.
Mrs Trodden died in October 2011, less than a year after going into the home.
The inquest continues.