Brighton traveller site 'will not stop camps in parks'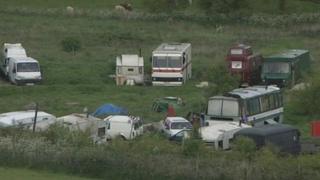 Plans to extend a traveller site in the South Downs National Park will not stop caravans entering Brighton parks illegally, opposition councillors say.
Brighton and Hove City Council wants to build 12 new permanent pitches next to 21 transit spaces at Horsdean.
It says the new pitches would free existing spaces for travellers and Gypsies visiting the city.
But Conservative leader Geoffrey Theobald said the suggestion it would stop illegal camps was ridiculous.
"Those people who are regularly going on to our parks and gardens are not those who wish to stay here permanently," he said.
"They come from outside the area for the summer.
"If you have 50 caravans descending on Stanmer Park and Wild Park it won't make the slightest bit of difference."
'Better stability'
The Green Party-controlled council said it had identified a need for 14-16 new permanent traveller pitches by 2016 in its city plan.
The Horsdean extension will be funded by a government grant.
"It will give better stability and permanent places for people to live so there will be less people kipping on our parks and open spaces," said Green councillor Pete West.
"There are other sites already within the national park area as there are in national parks around the country."
Romany journalist Jake Bowers said a well-built site would be a refuge for Gypsies and travellers.
"Gypsy and traveller people have been working in and travelling through the South Downs for 500 years," he said.
"Most of those living on transit pitches at Horsdean at the moment are people whose families have been there for generations."
The city's plans have been submitted to the South Downs National Park Authority.