Brighton campaigners march against NHS 'privatisation'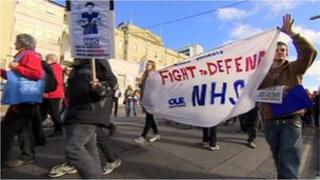 Hundreds of protesters have marched through Brighton to oppose NHS cuts and what they claim is privatisation of services.
The GMB union said it was against plans to outsource facilities such as pharmacy, audiology and sexual health services, and also job losses.
Brighton and Sussex University Hospitals NHS (BSUH) said the union had made a number of wrong claims.
Chief executive Matthew Kershaw said the protest undermined NHS staff.
GMB regional organiser Gary Palmer said Mr Kershaw was responsible for implementing government cuts locally, there had been lack of consultation with staff and the public, and union members believed most of £30m savings would come from staffing.
He said the union opposed sending NHS money into private hands and added: "We want to ensure there is free at source NHS provision."
Mr Kershaw said: "The reality throughout the NHS is that difficult decisions are being made, every day and we are not immune.
"However, we have been very clear that whilst we have some challenging issues to tackle and difficult decisions to make our focus is, and will continue to be on providing the best possible care for patients, supporting our staff in doing so and ensuring BSUH has a clinically and financially sustainable long-term future."
Privatisation claims
Responding to claims that audiology had been privatised, he said the clinical commissioning group had commissioned an element of the service from high street providers so people could get free NHS hearing aids from nearer their homes.
He said Albourne Ward was not closing but was being relocated.
Mr Kershaw said any decision about sexual health services would be taken by the city council, but the trust remained committed to keeping them.
He said a plan for the outpatients pharmacy to become a company was being developed but no hospital staff would be affected and profits would go to the trust.
In response to claims that renal services had been outsourced, he said a unit had been created in Eastbourne supported by a company, and patients in or near Eastbourne could have dialysis there rather than travelling to Brighton.
Mr Kershaw said reconfiguration of neurosciences and trauma was not optional and did not change ownership and management of services or affect staff.
He said no-one who worked at the Sussex Eye Hospital had been made redundant, adding that there were no plans to market-test hospital security, or transfer Sussex House Nursery to an external provider.