Lewes bonfire celebrations: 14 arrests and 86 people injured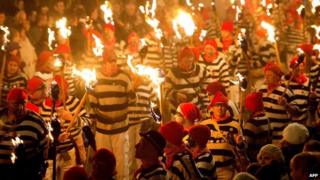 Eighty six people were treated by ambulance crews and 14 people arrested during Lewes' bonfire celebrations.
Two people were detained for throwing fireworks and 12 were held for public order offences during the event.
About 30,000 people watched the six bonfire societies with flaming torches and burning crosses parade through the narrow streets in East Sussex.
Police said four people needed hospital treatment but none of the injuries were thought to be serious.
Bonfires were lit and a fireworks display followed Tuesday night's parade.
At one point firefighters had to deal with an out of control bonfire.
'Minimise risk'
The event commemorates the Gunpowder Plot and 17 protestant martyrs who were burned at the stake in the town in the 16th Century. Organisers say it has "deep historical significance".
Visitors were advised to use eye and ear defenders by the town's council.
Supt Laurence Taylor said: "At public events of this size there is always the potential for incidents of criminal activity and anti-social behaviour.
"Around 18,000 people travelled into Lewes by train and officers from both British Transport Police and Sussex Police were on hand to help manage the crowds and minimise the risk of injuries and damage to property.
"I would particularly like to thank the stewards who worked really hard along the processional route and made sure there were no crowd issues resulting in people being injured."
More than 80 people needed treatment by ambulance crews in 2012, with seven being sent to hospital.
Eight patients attended the Sussex Eye Hospital following the celebrations in 2011.
Two were blinded and three now have the risk of life-long glaucoma.