Jimmy Savile police officers referred to IPCC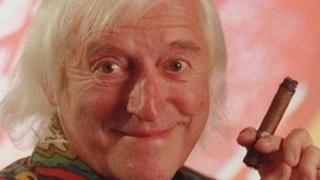 Two detectives who dealt with a sex crime allegation against Jimmy Savile in 2008 have been referred to the police watchdog.
The Independent Police Complaints Commission (IPCC) said it had directed Sussex Police to record and refer the officers' conduct.
The pair investigated a sexual offence complaint against Savile by a woman who contacted the force in March 2008.
Sussex Police said it would comply with the IPCC request and work with it.
One of the Sussex Police officers allegedly told the woman that a prosecution would be difficult because Savile was a "big celebrity".
He and the other officer also wrongly told the woman that her claims would need to be corroborated before any prosecution.
In a Crown Prosecution Service report released earlier in the year, legal adviser Alison Levitt QC said: "Looking at the documents created in 2008, I found it difficult not to conclude that the officers had, even if unintentionally, dissuaded her from pursuing her allegation.
"Insofar as she was led to believe that 'corroboration' was required before a prosecution could take place, this was wrong as a matter of law."
The two officers are continuing their normal duties and have not been suspended.
The IPCC's request is part of a review of material from a number of forces.
It said it had also requested further information from West Yorkshire, Surrey and the Metropolitan police forces.
Caravan allegation
"On receipt of the further information from these four police forces we will take decisions as soon as we can whether IPCC investigations are required," it said.
The IPCC is already conducting an independent investigation into allegations a West Yorkshire Police inspector "acted on behalf" of Savile by inappropriately contacting Surrey Police ahead of a police interview in 2009.
The Sussex officers investigated the woman's claim that disgraced television presenter Savile assaulted her in a caravan in about 1970 when she was in her early 20s.
This was referred to prosecutors, along with three other allegations against the performer received by Surrey Police, but in 2009 the Crown Prosecution Service (CPS) decided no action could be taken.
The CPS has admitted Savile's accusers were not taken seriously enough and that this was a missed chance to charge Savile while he was alive.
Sussex Police said it had received a request from the IPCC in February seeking relevant documents and its view on the potential for any police misconduct investigation.
'Careful assessment'
"We sent a full response to the IPCC in March and received a letter from them on 1 November requiring us to record a misconduct matter in relation to both officers referred to, and to refer it back to the IPCC for their decision on how it should be investigated," the force said in a statement.
"Recording a misconduct matter means we formally record the potential for a misconduct investigation, and refer it to the IPCC for their decision on what should happen next.
"There has not yet been a misconduct investigation."
The IPCC said it had now advised five other police forces from which it received Savile-related information that it did not intend to take further steps in regard to any of their officers at this time.
These forces are Thames Valley, Greater Manchester, Cheshire, North Yorkshire and Lancashire.
"After careful assessment of all the information so far available we have determined there is insufficient evidence of any recordable conduct matters specific to individual police officers which would merit a referral to the IPCC," it said.
"The forces have provided rationale to the IPCC, as requested, for their decision-making in not recording or referring any conduct matters."