Duchess of Cornwall makes Skype call to Rustington pupils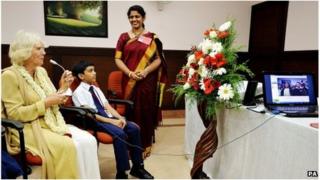 Children at a West Sussex school have taken part in an internet video call with the Duchess of Cornwall during her tour of India with the Prince of Wales.
The duchess spoke to pupils at Summerlea Community School in Rustington via Skype while at Rajagiri School, its partner school in Kochi.
She told the children that it had been "raining, so it is home from home".
Pupils from both schools then posed each other questions about schooling and culture in the two countries.
The duchess told the pupils in England that they were probably "rather colder than we are here".
She said it was "lovely to be here and see you all in England [and] we'll be back there quite soon".
She added that the Rustington children were in "a very nice part of the world where I was brought up".
"I know it very well indeed, so it's lovely to catch up with you all and I hope you're working hard."
Teacher Kerry Dolan said the children had "felt very privileged and proud of themselves to be part of that group speaking to her".
The pupils have been taking part in a project run by the British Council and have been in regular contact with the private school in India.