Drivers misusing Crawley branded 'stupid'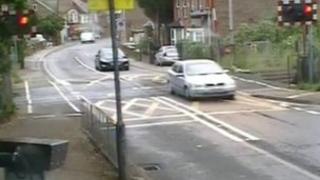 People are still putting their lives at risk at two level crossings in Crawley despite warnings, figures show.
British Transport said there had been 50 recorded incidents of misuse at the Horsham Road and High Street crossings in the past 12 months.
Conservative Crawley MP Henry Smith described the behaviour as stupid.
The Emergency services have spoken to people in the past and given out postcards with safety messages.
There were also 100 recorded incidents of misuse between 2008 and 2012, according to Network Rail.
Two fatal accidents also took place at the Crawley crossings, in 2009 and 2010.
'Awful consequences'
Mr Smith said: "People trying to cross when the gates are coming down, when they lights have been flashing for some considerable time is actually stupidity.
"It is unfair not only to themselves and their families but the emergency services, the train drivers and everybody else who has to deal with the awful consequences when it goes wrong."
He said underpasses or bridges were not practical at the crossings and warned people to heed the safety messages.
British Transport Police said anyone caught misusing the crossings would be prosecuted.