Sussex lorry fall widow makes safety plea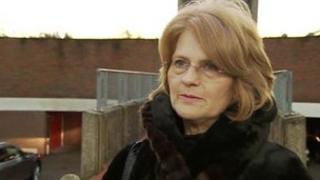 The widow of a man who died after falling from a lorry at Gatwick Airport has called at a Sussex inquest for compulsory head protection for all workers working on loading operations.
Mike Miles, 62, of Lancing, worked for airline catering supplier Gate Gourmet.
He died from head injuries after falling 4ft (1.2m) while loading and hit the side of his head on the ground.
The firm's general manager Hans-Peter Ross said operations had been reviewed, but no changes had been made.
During the hearing in Horsham, Mr Miles's wife, Rosemary, said her husband had Type I diabetes but she did not believe this had been a factor in his fall on 14 May, because his blood levels had been normal.
Mrs Miles told the inquest that if her husband, a driver loader, had been wearing head protection, he would still be alive.
She said she had started a campaign for workers to wear special helmets to avoid such a case happening again.
'No changes'
Mr Miles's colleague Roland Etherington said no-one saw exactly what happened but he did see him "catapult and fall back".
He said: "I ran to him and cradled his head. I seriously thought it was a minor accident and that he'd be off for a few days and that will be it."
Mr Ross said 25,000 people worked for the company worldwide and added that Mr Miles was known to be competent, diligent and thorough.
He said the incident raised concerns because nothing like this had happened before.
He told the inquest: "We've reviewed everything we do, but we have not made any changes to processes or training."
Speaking outside the hearing, Mrs Miles said: "When he was airlifted to King's College Hospital from the Tarmac at Gatwick Airport, the only major injury on his body was an impact on the side of his head, which caused ultimate brain damage and then his death."
Gate Gourmet issued a statement which said: "We deeply regret that this tragic accident occurred. Our thoughts remain with the family and with the employees who lost a wonderful person and colleague."
A jury returned a verdict of accidental death.
A Health and Safety Executive spokesman said an investigation into Mr Miles's' death was in progress.
"We are reviewing the findings of the inquest before making a final decision on whether any action is necessary - as is standard procedure," he said.
He added Gate Gourmet was bound by the workplace transport regulations and there was no legal requirement for head protection to be worn.