Brighton's Grand Hotel put up for sale after refurbishment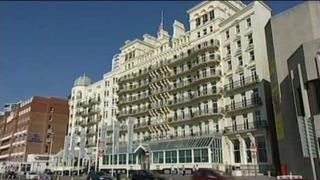 The Grand Hotel in Brighton, which was bombed by the IRA during the Conservative Party conference in 1984, has been put up for sale.
Andrew Mosley, general manager, said its sale had been expected after the De Vere group refurbished the hotel.
The owners want to concentrate its business on hotels with golf courses, Mr Mosley said.
He said after the owners had received several offers they "decided to make it official and put it on the market".
The Grand Hotel, which first opened in 1864, is expected to be sold for about £50m.
"The sale formed the base of a wider strategy of the group as a whole, where generally speaking the hotel division of De Vere is looking on focussing on its golf hotels, which of course the Grand doesn't have," Mr Mosley said.
'Positive market'
In June 2012, a programme to refurbish the hotel's 201 bedrooms and 11 conference rooms began.
"The decision was therefore to spend £6m or so and see how the market reacted and it's been quite positive," Mr Mosley said.
"We've received a number of unsolicited approaches over the last 12 months and so it's for that reason that we decided that we'd make it official and put it on the market."
David Weston from the trade magazine, Hospitality Today, said trade for hotels had been "pretty tough" in recent years.
"Now it definitely has turned the corner and people are saying the next few years are going to be a bit better, which obviously makes a big difference to valuations of businesses like hotels," he said
"I don't think it [the sale] will make a big difference in Brighton."