Duchess of Cornwall praises Emmaus work for homeless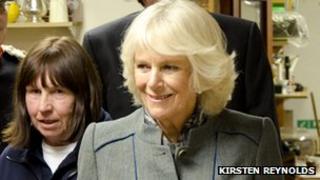 The Duchess of Cornwall enjoyed a reunion with a former homeless person when she visited Sussex to see how a charity is providing fresh hope.
Mary Rigg was given a home and the chance of work by Emmaus in Brighton before moving to the charity's new accommodation in St Leonards.
She accompanied the duchess on a visit to Paris, where Emmaus originated.
And they renewed acquaintance at the cafe on its Hastings and Rother site, which Ms Rigg now runs for the charity.
The duchess is patron of Emmaus, which was first established in France but now has 24 communities in the UK, providing shelter and a chance of meaningful work for those who have fallen on hard times.
Driving force
The duchess officially opened the accommodation block in St Leonards, named after the late Charlie Jordan, who helped get the latest complex established.
David Cooper, chairman of Emmaus Hastings and Rother, said: "Charlie Jordan was an inspirational man and was the person who had the vision and the drive to get this community going."
The first of the accommodation modules, on the site of a former Southern Water building, opened in 2011, thanks to money raised on the site by volunteers who manned an Emmaus shop there.
By the time it is complete in 2014, there will be places for 23 previously homeless people.
Ms Rigg, 60, said of the duchess: "It was a real honour to meet her again, not just for me, but for Hastings.
"Seeing the Emmaus community in Paris, which has been around for 60 years, showed me what could be possible for Emmaus Hastings and Rother."
After unveiling a plaque, the duchess told staff, residents and dignitaries: "Every time I come to Emmaus, I get the same positive feeling about life."