Eddie Izzard opens Bexhill College's theatre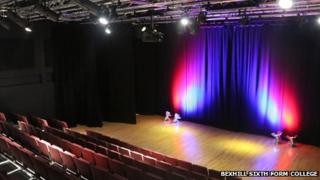 Award-winning comedian and actor Eddie Izzard has returned to his home town in East Sussex to open a new theatre.
The multimillion-pound theatre at Bexhill Sixth Form College has been named the Izzard Theatre in his honour.
It can hold an audience of 200 people, and has separate rehearsal and teaching spaces, and green rooms for performers.
Mr Izzard said he found the name of the theatre to be "completely amazing and bonkers at the same time", but was very happy that it had opened.
"In case my career ever goes backwards, the college has my permission to change the name of the theatre to the Blizzard Theatre and say it was named after Antarctic explorers," he joked.
'Role model'
His visit to the theatre on Saturday evening came almost 10 years after he officially opened the college site in Penland Road.
Following Saturday's ceremony he performed a one-off intimate gig at the theatre.
College principal Karen Hucker said Mr Izzard was "a role model both nationally and internationally as an entertainer and charity ambassador".
"Eddie has achieved great things in his career and also done so much for charitable causes, so it seemed fitting that we honour his successes by naming our theatre after him," she said.