Children plant trees in Brighton Central Park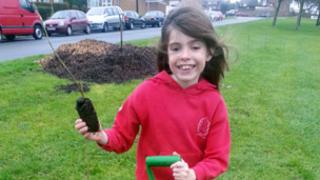 About 200 saplings have been planted in a Brighton park with only a few trees.
Youngsters from a children's group planted rowan, hawthorn and hazel in an area of Central Park, Woodingdean.
The children from Woodcraft Folk will monitor the progress of the trees and observe any environmental changes.
A city council spokeswoman said: "Within a decade many of the trees will be established to provide a woodland feel in a part of the park which was only grass before."
She added: "The trees are species which attract wildlife, such as birds and butterflies, bringing biodiversity to the park."