Ordnance washed up on West Sussex beach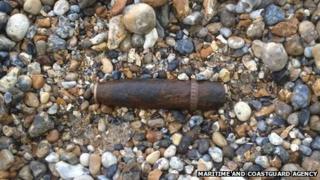 A piece of ordnance has been washed on to a beach in West Sussex following weeks of stormy conditions.
Solent Coastguard received a call about the explosive on West Beach in Selsey, near Chichester, just after 09:00 GMT.
The Selsey Coastguard Rescue Team has cordoned off the area and the Ministry of Defence (MoD) had been alerted.
The MoD is sending a team to assess the situation and decide on the next step. Coastguards are warning people not to touch ordnances they find on beaches.
A spokeswoman from the Maritime and Coastguard Agency said: "If you spot something suspicious on the beach that you believe could be a type of pyrotechnic or ordnance, do not touch it.
"Instead, call 999 and ask for the coastguard.
"A coastguard rescue team can then be sent to secure the area and the necessary authorities can then be called in to ensure the item is disposed of safely."