Copthorne Francis Court care home standards 'still failing'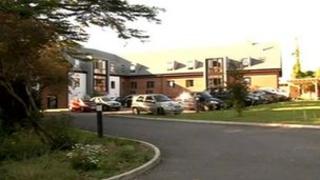 A Sussex care home is failing to meet acceptable levels of care, months after serious concerns were raised, the health watchdog has said.
In October, the Care Quality Commission (CQC) found residents at Copthorne's Francis Court were "at serious risk".
A December inspection found there was no longer evidence of a "major risk" but highlighted failings in medication management and the planning of care.
The home's operators Care UK said the latest report was "encouraging".
Francis Court provides nursing and residential care for up to 49 people with dementia, mental health and physical needs.
It is on the the site of the former Orchid View care home, where 19 residents died while it was being run by Southern Cross. That home closed in 2011.
'Still falling short'
Adrian Hughes, Regional Director for CQC in the South, said that during the October visit, "it was clear that we needed to take immediate action, which included a restriction on new admissions until further notice".
He said that when CQC inspectors revisited the home in December, they found Care UK was addressing the concerns that had been raised two months earlier.
On that visit, the CQC found there was no longer evidence of a "major risk" to residents' health and well-being, but inspectors reported failings in the way medication was managed and the planning of care and treatment.
The report also said standards of staffing and the quality of management needed improvement.
Mr Hughes said the "onus" was on Care UK to "ensure that this improvement continues and is sustained".
He added that the CQC "still have concerns that people at Francis Court are not receiving the best possible care - and the home is still falling short of the required standard".
A Care UK spokesman said feedback was "encouraging and acknowledges that progress has been made".
He said new management and clinical teams had been appointed which had "resulted in a review of residents' care plans, new medicines management processes and additional training for existing team members".
"In addition, an ongoing recruitment campaign has doubled the number of registered nurses and we expect our reliance on agency workers to significantly reduce as soon as our new recruits have finished their comprehensive induction programme."
He added that the organisation "accept there are still some aspects of care and administration that have not yet reached the high standards we demand".
"We are working closely with the CQC, the local authority, residents and their families to ensure standards continue to improve," he said.