Fury over Brighton's first gay wedding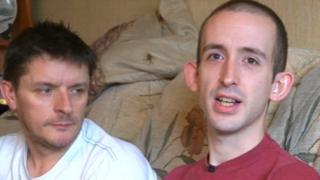 A gay couple who claim they were told they would be the first to marry in Brighton say the city council has gone back on its promise.
James Preston and Phil Robathan say their paperwork stipulates they will be the first in the city to tie the knot.
They booked their wedding in December when the government announced the first same-sex wedding date of 29 March.
The council has now announced a competition to find the first couple and said it was a misunderstanding.
"We've got paperwork saying our ceremony would be conducted at the earliest time possible," said Mr Preston.
"The registrars were the ones making a song and dance in the office about being the first couple.
"We went down there, we booked it all, we handed over the money and we were given the paperwork."
Couple selected
On Tuesday, Brighton and Hove council announced it would give a free wedding, for 80 guests, in the Royal Pavilion's Music Room to the first same sex couple to be married in the city.
It said couples could apply to be selected for the ceremony to be held at one minute past midnight on 29 March.
The wedding would also be the first to be conducted in the music room.
"We were absolutely furious when we found out that we had been made to feel so silly," said Mr Preston.
"They are making a mockery and circus of the whole idea of marriage, let alone ourselves."
Councillor Leo Littman said there had been a misunderstanding.
"They were never told by the registrars they would be the first couple married," he said.
"They were told that they would get a time on 29 March but not what time that would be.
"We have been taking inquiries for well over a year for couples wanting to know when we would be able to offer same sex marriages.
"We thought it was only fair to give consideration to all the couples who had registered their interest in being the first to get married."