Storm hit Bedham residents feel 'abandoned' by BT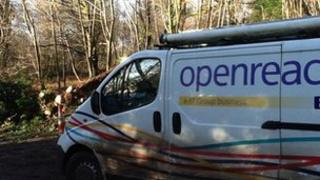 Residents in a West Sussex hamlet who have been without phone lines since the Christmas period say they feel "totally abandoned" by BT.
The lines were cut to properties in Bedham, near Petworth, on 27 December when a tree brought down an overhead cable during stormy weather.
Anne Kennedy said she had been unable to help her sisters with the arrangements for her mother's funeral.
BT said work was at the planning stage and apologised for the disruption.
'Site surveyed'
Ms Kennedy said: "We feel abandoned and there are several really quite tragic stories where people have had to move out - someone who's very ill and needs a phone, my mother died [on 19 December] and I couldn't be in the loop with my sisters to help organise the funeral.
"Another friend had her daughter visiting from Turkey whose husband depended on the internet for his business, they had to move out.
"We feel totally abandoned."
A number of other residents also told BBC Sussex they were very angry BT had not reconnected their phone lines.
In a statement, BT said: "A fault was reported on December 27 with an overhead cable, possibly caused by storm damage from the recent bad weather, affecting some customers in the Bedham area.
"The site has been surveyed and engineers will have to renew a section of the aerial cable.
"We apologise to those people who have had their service affected, engineers are working to restore service as quickly as possible."
Storms on Christmas Eve and on Boxing Day night left thousands of homes across East and West Sussex without power.