Eastbourne parents search for roadside birth 'assistant'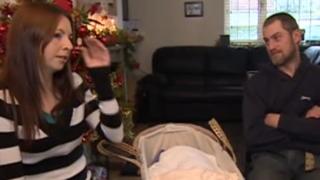 Parents whose son was born in their car when they failed to make it to hospital are trying to trace a driver who pulled over to help.
Natasha Mills gave birth to baby Oscar in a farmyard driveway on the A271 near Battle, East Sussex in December.
Her partner Mark Cousins delivered the baby while the mystery driver talked to emergency services on the phone.
"Luckily the man who jumped out of his car was a retired policeman who kept us both calm," said Ms Mills.
'Car flagged down'
The couple, who live in Eastbourne, were on their way to the maternity unit in Hastings, 17 miles away.
Last year, Eastbourne hospital's maternity and paediatric services were temporarily downgraded by East Sussex Healthcare NHS Trust to cope with staffing shortages, with a midwife-led unit at Eastbourne and consultants based in Hastings.
"I screamed at Mark to pull over, thinking we were only about four miles away and the ambulance would probably get to us quicker than we could get there," said Ms Mills.
"He dialled 999 - the operator was talking to him and telling him what to do but he couldn't hold the phone and deliver the baby.
"There was no sign of the ambulance so he had to stand in the middle of the road and flag down a car."
The driver said he had never delivered a baby but relayed instructions to the couple.
Once Oscar was born and the ambulance arrived, he drove away.
Now the family want to find him to thank him for what he did.
"I think this poor man was probably in a bit of shock as well - it was an awkward situation," said Ms Mills.
"It would be lovely if we could say a big thank you personally.
"It could have turned out so much worse and with him being so calm it just helped the whole situation."