Terry Davies arson death: New clues in Littlehampton inquiry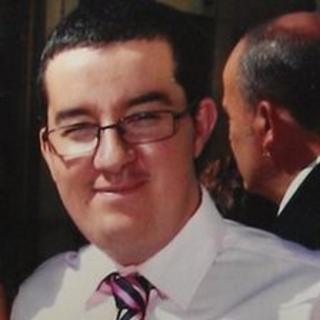 A fire in West Sussex in which a man was killed could be linked to a nearby incident involving the same accelerant and a separate car fire, police say.
Terry Davies, 24, died in the blaze at the flats in South Terrace, Littlehampton, on 12 September 2013.
The fire started behind the front door of the building at about 01:00 BST.
Police have now said white spirit was poured in front of a home in nearby Baysford Road, and a car was set alight in Granville Road just hours before.
Their investigations have revealed the first incident happened at about 15:00 BST on 11 September, with the second at about 22:50 BST that evening.
Witnesses sought
The death of Mr Davies, who had learning difficulties, is being treated as murder by police.
A post-mortem examination showed he died from the effects of breathing in smoke.
Four other people were taken to hospital.
The fire, which had been started with white spirit, is being treated as arson.
Det Insp John Wallace, from the Surrey and Sussex Major Crime Team, said all three events happened within hours of each other and within a few streets.
"We are hoping to speak to any witnesses or people who can give any information at all about either of the two fires or what happened in Baysford Road," he said.