William Avery-Wright: Worth School head 'will not resign'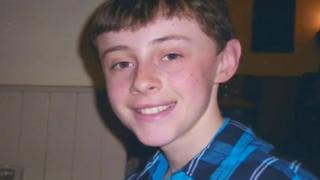 A public school has defended its head teacher and chair of governors after an MP called for their resignations in the House of Commons.
Wealden MP Charles Hendry said Gino Carminati and Alda Andreotti should resign from Worth School over their handling of the death of a pupil.
William Avery-Wright, 13, was killed in a car crash outside the school near Turners Hill, West Sussex, in 2011.
The school said neither Mr Carminati nor Mrs Andreotti would be resigning.
But William's mother Lisa said their resignations would show true contrition.
"It is just the most basic, catastrophic kind of event that could possibly happen in a school," she said.
"I can't imagine how the hierarchy could live with themselves staying in place when something like this has happened."
Mr Hendry told MPs William's death was announced to parents by Mr Carminati before his own father had been told.
He said William was crossing Paddockhurst Road unsupervised to play in a rugby match when he died, which breached the school's health and safety policy.
No prosecution
An inquest in Crawley last year recorded that William's death was an accident.
The school said in a statement it was dismayed at Mr Hendry's "ill-conceived use of Parliamentary privilege" to raise the issue in Monday's debate about dangerous driving.
Father Luke Holly, president of the school governors, said in a statement there had been detailed investigations into all the circumstances surrounding William's accident.
The "unequivocal and correct conclusion" of the police, Crown Prosecution Service and Health and Safety Executive was that there was no basis for a prosecution, he said.
"The school has always accepted responsibility for its policy of adult supervision for years seven and eight crossing Paddockhurst Road not being followed on the day of William's accident.
"The school has on numerous occasions, both in person and in writing, expressed its genuine contrition and remorse.
"The school has installed a footbridge over Paddockhurst Road and the speed limit has been reduced from 60mph to 40mph.
"The school will, however, continue to press for a 30mph speed limit."