East Sussex job cuts and 1.95% council tax rise recommended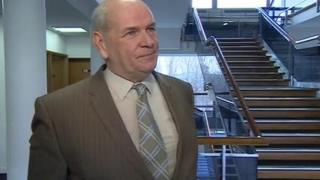 Around 150 jobs should be cut and council tax should rise for the first time in four years, East Sussex county councillors have recommended.
The authority expects to cut the posts over the next financial year in a bid to find cuts of £27.7m for 2014-2015.
Adult social care services and children's services, including schools, will both be cut by 7%.
West Sussex County Council is proposing to freeze its tax for the fourth year in a row.
East Sussex County Council's cabinet has recommended a council tax rise of 1.95%, representing 43p per week for a band D property.
'Protect tax payer'
But the authority, which needs to make total spending cuts of £110m by 2020, has set aside £2.25m for pothole repairs in the next financial year.
Conservative leader of the council Keith Glazier said he did not know at this stage where the job cuts would be made, but they were inevitable.
"What we are trying to do is protect the council tax payer as much as we can," he said.
"We now find that we have to make a choice between protecting the most vulnerable in society and filling potholes and all of that on the back of making £30m worth of savings out of a £380m budget during this financial year."
The cabinet's recommendation is to go before the full council for final approval on 11 February.
West Sussex said a band D taxpayer would continue to pay £1,162 next year.
Councillor Michael Brown said it had produced a two-year savings plan of £55m.
The West Sussex budget, to be approved on 14 February, includes £31.5m for changes to schools in Worthing, including providing a new secondary school.