Uckfield residents say falling leylandii branches 'could kill'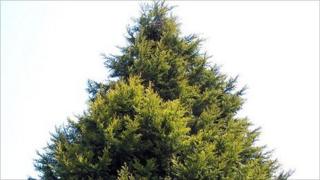 A group of residents on a street in an East Sussex town have said they fear that someone will be seriously injured or even killed by falling leylandii branches in their road.
In recent weeks Oakwood Drive in Uckfield has been blocked three times, the home of an 80-year-old woman hit twice and two vehicles written off.
The company that owned the trees went into receivership in 1989.
Wealden District Council said it was "trying to pick up the pieces".
The residents told BBC Sussex that the administrators, Deloitte, had told them that if they wanted to buy the land they could purchase it cheaply.
But the residents said it would not be easy to get everyone on board.
They said they would then be responsible for managing the trees, which are protected by tree preservation orders and would be liable should a falling tree or branch injure a passer-by.
'Easily kill'
Stephen Barton, who lives on the street, said: "I'm going back 10, 12 years when they first started falling down, and since I've lived here there's been at least six times that parts of trees have fallen down.
"And when we call these branches, let's be under no illusion here - these branches are well over a foot wide in the trunks, they're like mini-trees coming down.
"It could easily kill, you'd be seriously injured at best to be honest."
Fellow resident Ruth Bailey added: "It's quite unpleasant at night, lying in bed wondering if it's going to come down on your house."
The district council said it had recently removed what it considered to be the most dangerous branches.
Kelvin Williams, from the authority, said: "We're liaising with the receivers because the people who own the land haven't got any money and they're in receivership.
"So obviously it's left to the council to try and pick up the pieces on this.
"They've probably got to a stage where they've got too large and we've got to do something about it and that's what we intend to do."