Brighton and Hove Council votes through budget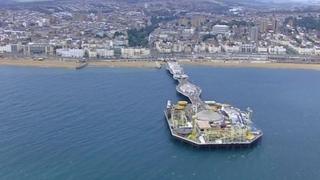 The ruling Green Party's plans for a 4.75% rise in council tax have been defeated at a meeting of Brighton and Hove Council.
Members instead adopted the Labour group's proposal for a 1.99% rise.
The council had until 11 March to reach agreement or the local government minister Eric Pickles would have been required to impose a budget.
Any authority wanting to increase council tax by more than 2% must put their plans to a local vote.
Councillor Gill Mitchell, deputy leader of the Labour and Co-operative group, said: "We are very pleased that a lawful budget has been set and it was the budget that we hoped for with an at-inflation council tax rise.
"Services have got to change and they've got to become more efficient."
Budget compromise
The council had failed to reach agreement on its budget at a series of meetings in February, with the Green Party's budget being blocked by Labour and Conservative councillors.
The Conservatives had called for a freeze in council tax.
Speaking after the meeting on Wednesday, leader of the council, Green Party member Jason Kitcat, said: "It was important that the council budget was set.
"I'm pleased there was cross-party agreement on a series of areas which will help keep services going in the year ahead.
"Everybody had to compromise. It wasn't the budget we hoped for but at least the city has certainty and the Secretary of State will not be involved."