Radio-controlled aircraft trialled by Gatwick police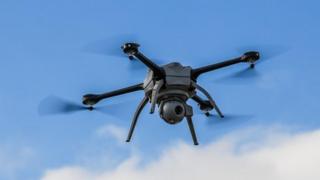 Radio-controlled aircraft, or drones, are to be trialled at Gatwick Airport to beam pictures to police officers on patrol to monitor the area.
Sussex Police are running a pilot using a small unmanned aerial system (UAS).
It will be able to send high quality pictures to police who can control the aircraft with a portable console from up to 500m away.
The drones will be used for three months to assess locations and film incidents from above.
The trial, which is due to start later this month, is being funded by the Association of Chief Police Officers (ACPO) to test how effective it could be in policing.
It costs £35,000 for the equipment and £10,000 for the training of four officers to use it.
'Detect crime'
Landowners near Gatwick Airport are being asked for permission for the aircraft, commonly known as drones, to be deployed from their land.
If the trial is successful, the Aeryon Skyranger system could be used elsewhere in police operations such as collecting evidence after collisions or major incidents and in the search for wanted or missing people.
Supt Brian Bracher said: "It could help us collect evidence and monitor events from a distance, which would help us detect crime and prosecute offenders.
"It could be used in situations where deploying patrols would put officers or the public at risk."