Hundreds attend Ferring housing protest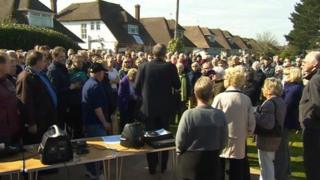 Hundreds of villagers have staged a protest against a potential housing development in West Sussex.
They claim Persimmon Homes is preparing a planning application to build nearly 400 houses on the edge of Ferring, near Worthing.
The protestors argue that the possible development would overwhelm the "already overcrowded" area.
Persimmon Homes said the site was suitable for development.
Carol Robertson, from Ferring Conservation Group, said: "It's not a question of saying 'we're Ferring, we don't want anybody'.
"We just do not have room. Our doctors are at full capacity, our roads are in gridlock in the mornings on a weekday.
"Our schools are all at capacity here, we simply can't take that many more people."
In a statement, Persimmon Homes said: "The plot of land adjacent to Goring Station is owned by Persimmon Homes, and a topographical survey was recently carried out.
"We have always made it clear to Worthing Borough Council that this site is available, and would be suitable for development."