South Downs National Park in public transport plea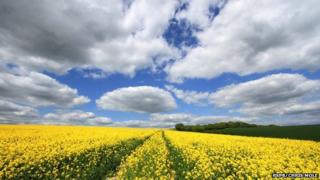 A campaign is under way to try to get more visitors to the UK's newest national park to use the bus or train.
The South Downs National Park Authority said 83% of its 44 million visitors a year used private cars.
The park is using part of a £3.81m Department for Transport (DfT) grant to pay for extra buses on some routes.
"Bus and train passengers will leave a smaller carbon footprint on the countryside they love," said campaigns manager Nick Stewart.
"We understand that public transport in rural areas can be considered tricky - whether that is reality or just a perception."
'Walking in circles'
Sussex Area Ramblers said there were a number of railway stations in or near the country park, which came into being in 2010.
"I lead walks exclusively by public transport and I don't have a problem," said spokesman Chris Smith.
"One of the great things about doing walks by public transport is that if we feel like going back to Falmer station, for instance, that's what we do.
"If we feel like walking into Brighton we can do that. You are not tied to walking round and round in circles to get back to the car."
The DfT grant, shared with the New Forest National Park, is from the government's local sustainable transport fund.
More than a dozen attractions in the park are offering two-for-one entrance deals until the end of April to people who arrive by public transport.
Among them is the RSPB's Pulborough Brooks Nature Reserve which is staging an exhibition of winning entries in its South Downs Futurescape photography competition on Sunday.
The winners in four categories are being presented with their prizes on Saturday.