Millais School fire investigated as crime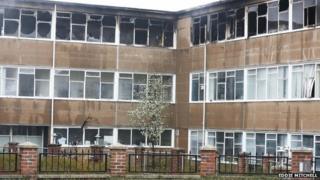 A fire which badly damaged the top floor of a girls' school in West Sussex is being treated as a crime.
Sussex Police said the fire on Thursday at Millais School in Depot Road, Horsham, was believed to have been started deliberately or recklessly.
The fire, on the third floor, set off smoke alarms and students and staff evacuated the building before fire crews arrived just after 15:00 GMT.
The school said on its website it was cooperating closely with police.
More than 30 firefighters tackled the blaze and Depot Road was closed for several hours.
Criminal investigation
Police said a comprehensive criminal investigation was now under way to identify the cause of the fire and those responsible.
Officers are working with the school to ensure that the investigation can be carried out whilst minimising disruption.
"It is likely that there will be a police presence at the school for a number of days as this investigation progresses and we are keen to hear from anyone that may have information," a spokesman said.
Millais School is a comprehensive for students aged 11-16 and is judged as outstanding by Ofsted.
Head teacher Leon Nettley said in statement parents and staff had been told of arrangements being made for Monday.
"We are doing everything possible to ensure the least disruption to the pupils' education during this difficult period," he said.