Birling Gap: Work to demolish cliff-top cottage continues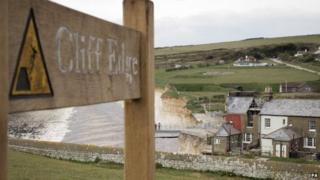 Work to demolish a coastguard cottage in danger of collapsing on to a beach has entered its second week.
The Georgian house has been left on the edge of the cliff at Birling Gap, East Sussex, after heavy winter rainfall caused seven years' worth of erosion in just three months.
Several houses at the site are now closer to the cliff edge after a series of collapses.
The cottage is now just 6in (15cm) from the cliff edge.
It was once part of a terrace of seven ex-coastguard cottages.
Others have already been demolished as the cliff edge has drawn closer.
The National Trust, which owns the site, said storms, high tides and heavy rain had made the cliffs more liable to faults.
Most of the work is being carried out from large cherry-pickers, so nobody has to work on the ground around the outside of the building.