Balcombe: Fracking protest village to generate own power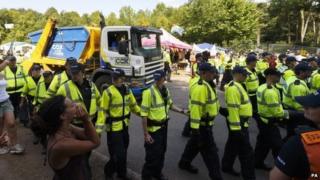 Residents of a village that has been at the centre of anti-fracking demonstrations have formed their own power company.
The co-operative in Balcombe, West Sussex, plans to install solar panels, worth about £300,000, on rooftops.
RepowerBalcombe said it hoped to meet about 7.5% of the village's electricity demand.
The group said it hoped to raise enough money for the project with a community share issue to local investors.
A spokesman said the project would generate about £1,000 per year for a community benefit fund to help homes and community buildings become more energy-efficient.
Protest camp
Joe Nixon, one of the co-operative's founders, said: "Advances in renewable technology mean that communities like ours can now generate the energy we need ourselves, locally, in a way that benefits us directly instead of big power companies - and helps the environment instead of harming it."
When energy company Quadrilla started drilling exploration wells near Balcombe last year, protesters gathered over fears it would lead to fracking, a process used to extract energy, such as shale gas, from rocks by forcing it out under high pressure.
More than 1,000 people set up camp at the height of the protests in August.
Last November, a study by the water industry concluded that fracking was safe, the government said.
In January, Cuadrilla said it would not frack for oil "now or in the future" at the site near Balcombe.