Oakmeeds Community College put into special measures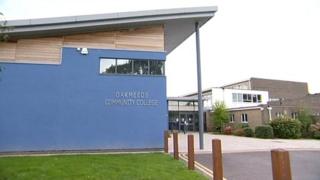 A comprehensive school in West Sussex has been put into special measures and told it should not employ newly-qualified teachers.
Oakmeeds Community College in Burgess Hill was rated "inadequate" by the Ofsted's inspectors.
During the visit in January, inspectors found pupils' achievement was inadequate and GCSE grades had fallen in recent years.
The school said the Ofsted inspectors had taken a "harsh view".
Inspectors highlighted inadequate progress in English and mathematics and said there were weaknesses in the quality and regularity of marking.
"Leaders and governors have been very slow to recognise the decline in students' achievement," the inspectors wrote.
"As a result, they are not demonstrating the ability to improve standards in the school to an acceptable level."
Ofsted said the school needed to plan more challenging lessons and check pupils' progress more often.
"The school should not seek to appoint newly-qualified teachers," inspectors said.
'Harsh view'
In a statement, the school said: "The team was impressed by the students who showed good behaviour.
"However the inspection team judged that students were not seen to achieve to their academic potential.
"The inspectors took a harsh view and concluded that Oakmeeds should be placed into special measures."
Head teacher Colin Taylor said the school had challenged some of the findings from the inspection.
But he said: "We have to acknowledge that the achievement of students by the time they leave at the end of Key Stage 4 requires improvement."