Birling Gap: Cottage demolition nears completion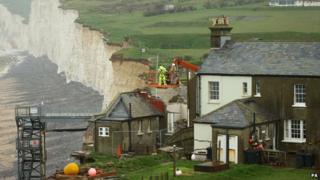 A cliff-top cottage in danger of collapse will be demolished by the end of the week, the National Trust has said.
The house was left inches from the edge of the chalk cliff at Birling Gap, East Sussex, after heavy rain caused severe erosion in recent months.
Demolition began on 17 March, with a cherry picker being used to take apart the Georgian former coastguard cottage.
Part of the trust's cafe has already been demolished.
The sun lounge and ice cream parlour was removed to safeguard the integrity of the rest of the building.
The steps leading from the cliff to the beach have been closed.
The cottage being demolished once formed a terrace of seven properties, built between 1800 and 1820 on the cliff overlooking the English Channel.
Because of erosion, two cottages had to be demolished in 1994 and in the early 2000s.
At least three metres of cliff has been lost along Birling Gap in the past four months, according to Wealden District Council.
The contractor carrying out the demolition has said it was not possible to allow the cottage to fall away into the sea because it is attached to other properties which would pose a danger to beach-goers below.
Last week the RNLI warned sightseers venturing too close to the crumbling cliff edge were putting their lives at risk.