Brighton bin strike on hold pending further talks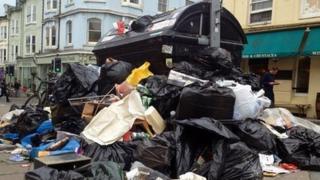 Fresh talks to try to avert another bin strike in Brighton and Hove will take place later this month.
The GMB union had said it would ballot for industrial action next week if it could not reach an agreement with the city council on changes to collections.
Union representatives and council officials will now meet on 23 April to try to resolve the ongoing dispute.
The city's streets were strewn with rubbish last summer during a week-long strike over pay.
New vehicles
Negotiations between the two sides broke up without agreement earlier this week.
The GMB claims the authority has repeatedly failed to consult with staff on the reorganisation of rounds introduced last October.
It alleges the changes have caused chaos and increased workloads for its members.
Brighton and Hove City Council said new vehicles were being delivered in the late summer which would improve reliability.
Environment director Geoff Raw said the council was "trying to put in place a refuse and recycling service that meets the need of the community who live in the city and the 10 million visitors a year".