Motorbikes on South Downs 'scare sheep to death'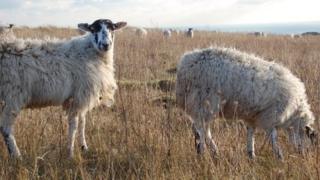 Illegal off-road bikers on the South Downs are scaring sheep so much some of them have died of heart failure, rangers have said.
The downs in Upper Beeding, in West Sussex, are particularly affected.
Stockman, Tristan Driver, said: "All the sheep panic... and we've had a few sheep die the next day after they've had a motorcycle riding through them."
Philippa Morrison Price, a ranger from the South Downs Park Authority, encouraged people to contact police.
However, Mr Driver said: "[They] generally come at weekends and sunny weekends... and they're in groups of five or six.
"Every now and then you get one person who decides to fly off up the hill through the middle of the flock of sheep and that doesn't do them any good."
Ms Morrison Price said the biodiversity of the South Downs was also under threat from the chalkland being churned up.
"There are 50 species per square metre, so it's a very diverse habitat," she said.