Woman injured in cow attack calls for better protection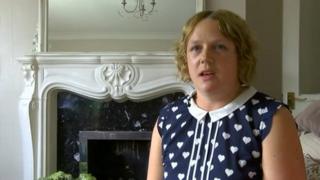 A Brighton woman who was seriously injured in a cow attack near the Devils Dyke has called for safety measures to be introduced to protect walkers.
Abby Colmer had to be airlifted to hospital where she spent six days in casualty having suffered a punctured lung and six broken ribs on 19 May.
The 37-year-old said she had also faced abuse from animal rights activists after the cow was destroyed by police.
Ms Colmer was walking on a South Downs public footpath when she was attacked.
Thirty-one deaths
She said she "feared for her life" after the animal charged, knocked her down and tried to crush her.
She was rescued by a couple who were also out for a walk who managed to scare the cow away.
The Brighton woman, who says she has received abusive messages since the attack, believes cattle should be segregated from footpaths in order to protect ramblers.
She has also called for signs to be introduced to inform walkers about the potential risks presented by the animals.
Ian Moodie, of the National Farmers' Union (NFU), said cows can become aggressive when they have young calves who they are trying to protect.
He suggested having more fencing was an option for farmers, as was providing other permissible routes across farms.
However, he said both options were "challenging" since fences would have to be large enough to hold cattle back and farmers would be liable for any new paths created.
Frank Grantham, a beef farmer from Shoreham, said separating cows and calves from their herd could also cause them even greater stress.
The issue of protecting people from cattle has recently been brought up in parliament.
Bill Wiggin, an MP for North Herefordshire, introduced a bill calling for legislation to improve the way cattle attacks are recorded so that appropriate measures can be taken to protect people.
"We need to move the debate on from injuries and fatalities into what we can do to keep everybody safe", he said.
In the last 10 years, 31 people have been killed by cattle in the UK.