Argos Hill driver 'swerved to avoid police crash'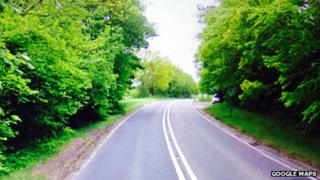 A driver was forced to swerve to avoid a collision with a police car on a 999 call when it came round a bend on the wrong side of the road, he claimed.
Robin Hare, of Ticehurst, has made an official complaint over the incident on the A267 near Argos Hill on Sunday.
In a letter to Sussex Police he said he had to drive onto a grass verge to avoid the collision and called for better driver training for officers.
The force said it was making inquiries to establish what happened.
Mr Hare, who was with his wife in the car, said he was angry about what happened.
"A police car came directly head on and it was only because of the grass verge that I was able to avoid what would have inevitably been a very serious collision or possibly fatal," he said.
"If the road had been lined with trees, or a wall or a bank I would not be here now."
'Most probably fatal'
Sussex Police said driver training and supervision was taken very seriously.
"Officers driving vehicles used for emergency response receive a particularly high level of training to ensure they can respond effectively to urgent calls for assistance without endangering themselves or other road users," the force said in a statement.
Mr Hare said he was going to visit friends at about 12:15 BST when the incident happened.
"A police patrol car suddenly appeared careering at great speed towards us on the wrong side of the road and on a head-on collision course," he told the force in the letter.
"By great good luck, it was the firm, flat grass verge on our left which allowed me to quickly swerve out of the way of the oncoming vehicle, thus avoiding a collision which would almost inevitably have resulted in casualties, most probably fatal."