Bognor Butlins holidaymakers in norovirus legal action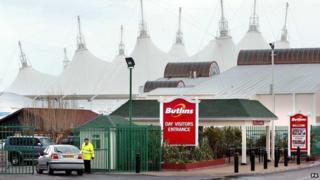 Lawyers representing 219 people struck down by a highly contagious stomach bug at a Butlins holiday camp in West Sussex have started legal action.
The holidaymakers fell ill between May and July 2011 following a norovirus outbreak at the camp in Bognor Regis.
Irwin Mitchell solicitors said court proceedings had started following a denial of liability by Butlins' parent company Bourne Leisure.
Butlins said: "We will robustly defend the speculative action."
'Sewage smells'
Amandeep Samra, from Irwin Mitchell, which is seeking compensation for its clients, said the court papers were being sent to Birmingham County Court where the case will be heard.
Among those taken ill were two groups from London - members of the Ealing Handicapped Irish Dancers and Mencap Hillingdon North.
Solicitors will argue they had been served undercooked food, and had seen pigeons on tables and flies on and around uncovered food.
They will also allege there were sewage smells around parts of the resort, and on occasions, the swimming pool was "cloudy with slime around the edges".
A spokesman for Butlins at Bognor Regis said: "We operate our resorts to the highest health and safety standards and work closely with the Health and Safety Executive to ensure that our guests' safety takes priority."
Irwin Mitchell spokeswoman Elizabeth Tetzner said clients had "been left with no other option but to seek justice for their ruined holidays".
"Unless an out-of-court settlement can be achieved on satisfactory terms, these clients' claims will be determined at trial in court," she said.