Shoreham Airport war memorial dedication service held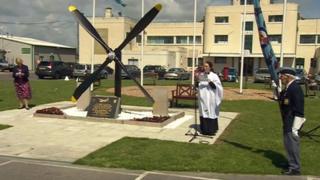 A service has been held at Shoreham Airport to dedicate a restored war memorial.
The monument, made from the propeller of a crashed B26 Maurauder bomber, was created to remember those who died during past conflicts.
During World War Two, the West Sussex airfield was used by the RAF as a base to rescue airmen from the English Channel.
The existing memorial, installed in 1997, had fallen into disrepair.
The restoration was funded with donations from the public, local businesses and the airport.
Much of the work was carried out by volunteers who provided materials and helped rebuild the site.
The propeller was refurbished during the restoration, although a bend in the lower left blade was left as that was how it had been found on the downed aircraft.
New walkways and landscaping have also been added to the feature.
The memorial can be seen by the public during the airport's opening hours.