Sussex Police hunt eight Ford Open Prison absconders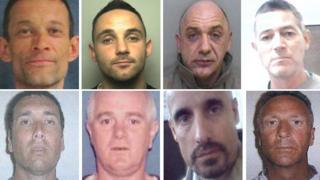 Police have published the names and crimes of eight men who have absconded from Ford Open Prison in West Sussex.
Sussex Police said they were considered to be most at risk of re-offending.
Three were jailed for murder, and the others for violence or robbery. One, a convicted murderer, absconded in 1997.
Supt Lawrence Hobbs said there was no evidence they posed a danger to the public "but because of the offences they have previously committed we cannot rule it out."
The eight men are:
David Blood, 48, absconded on 12 June. He was jailed for life for robbing a post office.
Robert Donovan, 57, left Ford while on day release in 2010. He was jailed for life for murder after he stabbed a man to death.
Steven Evans, 55, absconded in March 2013. He was jailed for life for assault. He attacked a man with a metal bar.
Craig Hayler, 30, absconded on 10 March this year. He was serving 30 months for a burglary in Hove and has a series of convictions for burglary, theft and fraud.
Arben Nuredini, 39, also known as Arben Alizoti, left Ford in 2005. He was jailed for seven years in 2004 for wounding.
Timothy O'Leary, 59, absconded in 1997. O'Leary, who also uses the name Timothy McCarthy, was jailed for life for murder.
Derek Passmore, 49, walked out of Ford in June last year while on day release. He was serving life for murder.
Christopher Street, 62, absconded in 2001. He was jailed for seven years after being convicted of conspiracy to rob and firearms offences.
Supt Hobbs added: "Some of the men may have absconded a number of years ago and may not have broken the law since then but justice has not been done in any of their cases as they still need to complete the sentences they were originally given."
He appealed for anyone with information about where they could be to contact the force.
Last week, the force revealed that 90 inmates were missing from the prison, although two have since been recaptured.
Violent robber Simon Rhodes-Butler, 37, handed himself in to police after fleeing from the jail last month, and Kevin Brown, 54, who went missing on 10 April, was arrested at a pub in Bristol on Saturday.
The Ministry of Justice said Justice Secretary Chris Grayling has ordered major changes to tighten up temporary release processes and open prison eligibility.