Guns and grenade found in Brighton house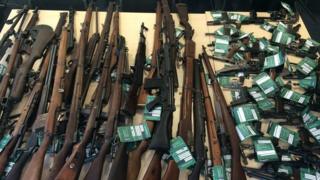 A hand grenade and 70 rifles and handguns have been found by Sussex Police in a house in Brighton.
Many of the 40 handguns were live and loaded when they were discovered in the house in Larkfield Way.
A World War Two hand grenade was also found at the home of the late gun collectors when police were called to secure "a few firearms".
The bomb disposal squad were called to make it safe. Some 30 decommissioned rifles were also found at the property.
Sgt Chris Lane said: "Let's say it wasn't our usual day at the office.
"We were told we might found two or three firearms at the house but were amazed to find 70. The late owner of them who lived at the house was obviously an avid gun collector."